CANNES, FRANCE—The vampires and werewolves of the Twilight franchise will be humorously "on Mars" when the final film arrives in November.
That's the word from lead star Robert Pattinson about The Twilight Saga: Breaking Dawn—Part 2, due in theatres Nov. 16.
"
This one is so odd that it becomes kind of funny
," Pattinson told the Star.
"
Now that Bella's not human, they're just on Mars now. Everyone in it is a lunatic!
"
Pattinson was at the Cannes Film Festival as star of David Cronenberg's Cosmopolis, which was competing for the Palme d'Or at the festival, which wrapped up Sunday.
He took a moment from his Cosmopolis press duties to talk about The Twilight Saga: Breaking Dawn—Part 2, the fifth and final film of the record-breaking gothic teen romance phenomenon.
Pattinson said Part 2 will be quite different from Part 1, beginning with the newly released posters, which show individual characters instead of group scenes. The posters have solo shots of Pattinson and also Kristen Stewart, his real-life girlfriend who plays his newly transformed vampire bride Bella in Breaking Dawn.
"
I'm excited about the last book coming out because it's quite different
," Pattinson said.
"
Even the posters. I just saw the posters the other day and . . . suddenly there's a different look. Because all our posters have been exactly the same, until the last one. It's crazy. I kind of like them.
"
Breaking Dawn—Part 2 breaks new ground for the series, too.
"
The movie is funny as well, which is weird
.
"
It's strange. I guess the first one was quite body horror-y (and) creepy.
"This one is so odd, that it becomes kind of funny. Now that Bella's not human, they're just on Mars now. Everyone in it is a lunatic!"
With
Ciné Télé Revue (Belgium)
Scans thnks to Twilight-Belgium |Translation thnks to RPLife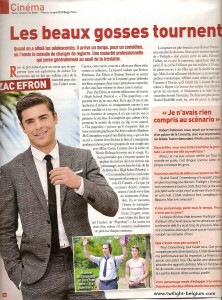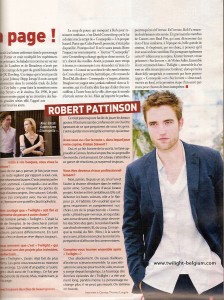 The interview was done during Cannes. The interviewer precises that Rob was eating a lollipop.
In the movie, you get your prostate checked? Is yours asymmetrical too?
Rob:
*laughs* I haven't checked that yet! Everybody talks about it, it's crazy how that line marked people.
Did you feel up to the task to take on this role?
Rob:
When David Cronenberg called me I was in the middle of shooting Breaking Dawn. There were only three weeks left. As soon as I got home, I pounced on the script and read it in one sitting, in one night. It was really strong, complex and freaky but so funny!
Your character speaks all the time, weren't you scared?
Rob:
The risk of failure was huge. At first, I told David I didn't feel ready for the challenge. There was too much pressure, but he convinced me. Even though he knew I didn't understand anything from the script. *laughs*
What didn't you get?
Rob:
For Cronenberg, everything made sense. The fact that I didn't understand didn't bother him. He was more concerned about my performance. The world of finance means nothing to me. It conceals an absurd distortion of power struggles. But it's not the end of the world, it's a rebirth because this world needs sometimes to be cleansed and purified.
Your character tries to escape from himself. Since you became famous - and with all these paparazzi hanging on to your coat-tails - are you experiencing the same thing?
Rob:
I try not to think about it, I only do my job. I stay cautious about all of this but it's still weird. It's like speaking in your sleep. Cosmopolis is a challenging movie that will open doors for me to new projects. I am very pleased. Saying that though, I can't compare this with my private life even if I feel completely claustrophobic.
Are you relieved that Twilight is over now and that you can now move on to something else?
Rob:
I will never disown Twilight. It was my job security. I'll never try to find excuses. The advantage now is that directors think differently. As an actor, it's something you've always dreamed about.
Lots of people think it's because of Twilight that you're pushed to do more diarist and intellectual movies ...
Rob:
I did little movies before Twilight. People only notice you when they feel like it. It depends from one type of audience from another. I 'acted' too in Twilight. It was a beautiful period in my life but now it's time to turn the page.
Are you still offered heartthrob's roles?
Rob:
It's not always easy to play heartthrob. You need to be extremely confident or be completely oblivious to what people think of you. I like to keep my integrity as an actor.
Did you see 'On the Road' in which your girlfriend, Kristen Stewart, has a role?
Rob:
Yes and it's sort of weird to see her like this. To have people clapping for you at Cannes, a Festival that's a little crazy and with so many people, is funny. We might expect those kind of reactions but always end up being surprised.
Did you become up professional opponents?
Rob:
No, never. For a year now we both had the chance to evolve in the job we love, especially in those amazing movie projects. Kristen is really ambitious. She knows how to find good scripts, she has the nose for that. I admire her.
We wanted people to respect and understand our choices. During the Cosmopolis screening at Cannes, I was a nervous wreck. I was looking in front of me, behind me, trying to guess people's reactions. I was trying to listen for whispers. And in the end, I missed half the movie. *laughs* At the after party that followed, I was even more terrified at the prospect of having to face people's comments.
Will you be in a movie together after Twilight?
Rob:
Yes, absolutely. We're trying to write a script together. It won't be for now but we've thought about it for a long time. The filming of the last two movies was long and difficult.My character doesn't change, he can't die. We finish on a high note.
More from Rob's interview with USA Today
On Nov. 18, he'll reprise his role as vampire/new father Edward Cullen opposite Kristen Stewart in The Twilight Saga: Breaking Dawn— Part 2, the final installment in Stephenie Meyer's behemoth series.
But before that, he'll appear in a surreal role as a Wall Street banker in David Cronenberg's Cosmopolis (due in August), which earned a standing ovation for its premiere at the Cannes Film Festival.
"I used to think it was a good thing to have a safety net,"
says Pattinson, 26, of his starmaking Twilight role.
"To know you're always safe is not real. It's got to matter."
So after Breaking Dawn, Pattinson will launch into a busy slate of projects that are starting to take shape.
"I have five things going — actually six,"
he says.
"I'm pretty sure I know which one is going to be first."
That would be Mission: Blacklist (2013), based on the true story of the interrogator credited with locating Saddam Hussein after the fall of his regime. After that, Pattinson will head to Australia with Guy Pearce to shoot The Rover, a thriller set in the post-apocalyptic future. It will be directed by David Michod (who wrote and directed 2010's critically acclaimed Aussie film Animal Kingdom).
Like his role in Cosmopolis, this movie doesn't quite fit into a box.
"It's really complicated to explain,"
Pattinson says, laughing.
"I seem to like choosing movies lately that are difficult to promote."
With Shortlist Magazine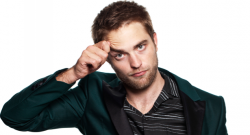 Robert Pattinson has swept away his teen idol persona in one fell swoop, thanks to Cosmopolis. ShortList's Jonathan Crocker talks off-piste career choices with a reluctant superstar
Five minutes after meeting her, Robert Pattinson found himself having sex with French actress Juliette Binoche in the back of a limo.
"She literally turned up and was like, 'Let's do it,'"
he grins.
"It was just hilarious. There wasn't enough room in the limo so she was banging her head on the ceiling."
So this is what's it's like to be Robert Pattinson.
"It's just boring,"
he counters, almost apologetically.
What happens when you're mega-rich, mega-handsome and mega-bored? You flip out. You get in a limousine and go on a ride that could change your life forever. Bouncy, backseat sex with an Oscar-winning actress. Boozy, late-night clubbing. Rabid crowds trying to get their hands on you. You beat up a guy in the street. You kill a man...
Hold on a minute. This isn't Robert Pattinson's real life. Well, it isn't and it is. His startling role in David Cronenberg's new arthouse psychothriller Cosmopolis – dark, sexy, violent, cerebral and possibly the weirdest film of the year – is exactly the one he's been waiting for. A film impossible to understand, yet makes perfect sense.
In the most daring performance of his career, Pattinson plays a 28-year-old multibillionaire travelling across Manhattan in a stretch limo to get a haircut. By the end of the film, he'll have destroyed everything he possesses to create an exciting, dangerous future.
"I want more," Pattinson tells a bare-breasted hooker who is aiming a high-voltage Taser at his naked chest. "Show me something I haven't seen before." Well, here it is: Pattinson escaping from the Twilight zone.
Since transforming from an out-of-work London actor to hair-gelled bloodsucker Edward Cullen, Pattinson has been engulfed by a tsunami of fan frenzy not seen since Leonardo DiCaprio failed to shove Kate Winslet off that floating door in Titanic. He sees his own face everywhere: on posters, on merchandise and magazine covers. Fans send him vials of their own blood and scream terrifying things such as, "Rob! I just want to touch your hair!"
He stays in hotels and needs 25 bodyguards to protect him at premieres.
"People used to go absolutely insane,"
he says.
"They couldn't hold themselves together at all."
Doesn't he wish it would all just go away? No, actually.
"I'm clinging on to that for dear life,"
he laughs.
"That's my career!"
That's the problem and Pattinson knows it.
MOVING ON
In Twilight, he plays a 107-year-old vampire trapped in the body of a 17-year-old boy. In real life, Pattinson's curse is worse: he's a 26-year-old actor trapped in the body of a 107-year-old vampire.
"I mean, playing the same part for a while... You just run out of ideas. You feel kind of useless, you don't know what to do any more. I'm not trying to get away from it. You're screwing yourself, you're saying you think your work is sh*t if you try to get away from it. And I never thought it was. I kind of got to the end of my inspiration. You get to the point where you're like, 'I don't want to do a film for a teen audience any more.'"
Exactly what Cosmopolis is, though, Pattinson's still not sure.
"Normally, you'd think that if you read a script and you don't understand it, you probably shouldn't be doing it,"
he says.
"But if it's a Cronenberg movie, you have to do it. It was a strange situation.

I asked David what it was about and he said, 'I don't know what it's about either.'"
In the most superficial light, Cosmopolis is a film about sex, death, money and power. It's a film about a man ripping his world apart to start afresh – and that's Pattinson's game plan, right there.
"I think the script was so bizarre, we thought it was quite funny it was even getting made. Literally. It's totally ridiculous. Ninety per cent of it is in a limo and it's about getting a haircut and being worried about your asymmetrical prostate. It feels like an absolute 'F*ck you' to any kind of hope of commercialism."
Twi-hards, then, are in for a massive shock.
"I'm curious who, if anyone, sees it,"
says Pattinson.
"It's such a weird movie."
He laughs.
"I guess, because I'm in it."
As far back as he can remember, Pattinson has been at the mercy of girls. When he was little, his two older sisters would dress him up as a doll and call him Claudia. His mother, a model-agency booker, helped him get modelling work at the age of 12 and – via some amateur theatre and some forgettable TV – he got his first big break playing Reese Witherspoon's son in period drama Vanity Fair.
He was promptly left on the cutting-room floor by director Mira Nair. But it looked like he'd hit the motherload when he grabbed the biggest role of his career as Cedric Diggory in Harry Potter And The Goblet Of Fire. Then everything went wrong. He got fired from a play in London three days before opening night. He flew to LA – where he played music, got drunk and went to see films he wasn't starring in. His agent let him sleep on her couch even though he hadn't worked in a year and a half.
"I thought the whole thing was over,"
he admits.
"I just didn't know what I was doing."
While he was dossing, director Catherine Hardwicke had been busy interviewing 5,000 young men – including Orlando Bloom, Hayden Christensen and Henry Cavill – for the lead role in her adaptation of a teen romance novel written by a Mormon housewife. Pattinson had never heard of Stephenie Meyer's Twilight saga, but he slung a quarter of a Valium and spent four hours in Hardwicke's bedroom with Kristen Stewart. Four years, four movies and a lot of screaming later, he's Britain's second-richest actor (behind Daniel Radcliffe), worth more than £30m and one of the '100 Most Influential People In The World' according to Time magazine.
But he can't remember the last time he went for a beer like a normal guy.
"It's extremely rare,"
he sighs.
"I don't know why. Something about my face. People just recognise it really quickly. Kristen can go out and people don't notice. She can hide in crowds. For some reason, I can't really do it."
He thinks for a second and laughs.
"I probably give myself away by walking around with a hoody and a hat and sunglasses, bent over and hiding my face. I probably look like a lunatic."
Can he remember the last time someone didn't recognise him? He thinks. For a long time. Then remembers sitting next to a French footballer on a talk show [Grand Journal] in 2009.
"There were teenage girls screaming outside and I've got Eric Cantona just staring at me going, 'Who are you?'" I was star struck. Then his nieces asked for some pictures..."
For some time now, Pattinson has been quietly attempting to dodge the Twilight spotlight and disappear in darker roles. Depression-era romance Water For Elephants saw him take a beating from Inglourious Basterds villain Christoph Waltz. Christina Ricci, Uma Thurman and Kristin Scott Thomas were all seduced-and-destroyed by his 19th-century sexual predator in Bel Ami.
"But every single time, a Twilight comes out and inevitably eclipses whatever I've done in the meantime,"
sighs Pattinson.
But with the vampire saga due to end this year and Cronenberg hailing Pattinson a "profound" talent, Cosmopolis could mark the end of Pattinson's frustrations and the start of a (sorry) breaking dawn. Next up, he'll star in psychological drama Mission: Black List, based on the novel by military interrogator Eric Maddox about the capture of Saddam Hussein, before joining Guy Pearce in The Rover, a new crime thriller by the writer/director of brutal Oz gangster epic Animal Kingdom. Most of his fans won't be old enough to buy a ticket.
The next 12 months will push Pattinson into the talented Hollywood Brit-pack that includes Andrew 'Spider-Man' Garfield, Henry 'Superman' Cavill and Tom 'Loki' Hiddleston. Sure, he hasn't been offered a superhero yet. But fast-forward 10 years and could we be looking at Bond?
"Yeah, definitely,"
he says.
"But more like 20 years. There'd be nothing worse than, like, 'Let's get a fresh-faced Bond!' That would be the worst idea in the world. After Daniel Craig, you have to have some baggage. It would be ridiculous to reinvent it as some young posh kid. Or, if it was, I'd have to be tortured in the first few scenes. I'd have to do the first film with one arm or something."
THE TURNING POINT
Anything could happen in 10 years. A decade ago, Pattinson was a teenage waiter, scoring tips for fun (
"I'd see a group of five drunk divorcees and I'd always end up going home with a load of money"
). It was Pattinson's 26th birthday a few weeks ago (
"I got £25. My friends all gave me £5. It was a very thoughtful present"
) and he knows it's just Twilight and fame that's been holding him back.
"I think 26 is the turning point,"
he says.
"I've got to make up for 10 years of living like a degenerate. I've suddenly become conscious of being unhealthy. You've spent every bit of free time since [the age of ] 15 in a pub. And suddenly you're like, 'Oh God, I don't want to be this grey ghost sitting there with a pot belly. I've got to get it together.'"
Getting it together means a new life mantra.
"Don't be a pussy,"
he states.
"Basically, that's the best thing you can ever think. I've had so many occasions in my life where I've acted like a pussy and regretted it. Have you seen that Tyson documentary? That bit where he says he'd defeated the guy before he's walked into the ring, it's the same thing. With acting, I was always so scared. But you get to the point where you realise it doesn't matter."
Take it from a vampire. Scary is OK. Scary is great.
"Oh man, I was terrified on Cosmopolis,"
he laughs, as we near the end of our conversation.
"There was a sex scene and I was cringing. The girl was really comfortable with her clothes off – and I'm not. She took all her clothes off and I was just sitting there going, 'Um, I haven't got my 'ball-sack' on...' F*cking amazing."
Cosmopolis is at selected cinemas from 15 June
With Diario de Noticias
Scan|Translation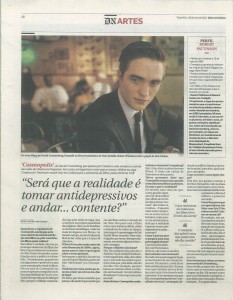 When you read the 'Cosmopolis' script, did you think it was going to be a science fiction adventure or, the opposite, an almost realistic film?
To be honest, I didn't think it would be a realistic movie. What really interested me was the lyricism of the script, a combination between poetry and fun... Usually, when I read a script, it's possible for me to visualize the movie. It wasn't like that with Cosmopolis: it was like I could only hear. Did that possibility of "hearing" came from the importance of the dialogue? Yes, because the dialogue surprised me even by the unique style. Starting by the structure of the pages: I could instantly see long monologues, which are rare in movies. At the same time it is incredibly easy to read: I think I read it in 40 minutes...

The book was written a long time before the financial crisis from 2008 and, now, it almost seems like a piece of news from today.
Even the pie on the face episode with Rupert Murdoch looks like a "prediction" from Cosmopolis

By knowing that, did you feel like you're portraying the reality of the present days?
As strange as it seems, I didn't. I felt that it was a movie about the wish to be free There are people that see it as a nihilist story, about the neglect of everything, but I never saw Eric Packer's character that way. To me, he's someone desperately trying to find something and... he can't.

Why, is money not enough?
Yes. In any case, to him, money is something that doesn't mean anything. I should say that the stock market can be anything to mean, it doesn't make any sense. For example, when we read the news about Facebook: 104 billion dollars? How can that be real?

Before filming Cosmopolis, were you familiar with Cronenberg's work?
Yes, I had seen a lot of his movies. I had a poster of Scanners in my room.

Maybe we can say that Cosmopolis brings back one of the main questions from his previous movies. What is reality?
There is one scene, during a riot, where Eric says to the woman, that conversations between "normal" people are too strange... And every time he tries to behave like a human being, he feels like an alien. Would it be that reality is just to take some antidepressants and live... happy?

How is it for an actor to prepare for a character like this?
I started by the usual ways and that didn't work.

What usual ways?
Where does the character come from? What are his motivations to behave like that? All of the sudden, nothing of this makes sense for Eric. There's a scene (which is in the book too) that, to me, was the key point of everything. It's the moment where Eric, with his "chief of theory" talk about the Nasdaq building: to them, it looks like a church.

And what happens in a church like that?
To them, they spend the time crating transactions, everything happens as if they'd live in the future, no need to deal with the present: the future is infinite, the present is astounding.

How do you think that people will see Eric? Will they be sympathetic? Will they hate him?
To be honest, I don't know. The first reactions have been really good, but I don't know. When I watched the movie, I felt that, in the end, Eric is just a really sad character. What is strange is that if we had to deal with him, Eric would be someone that no one would care about.

This sadness is probably a recurring theme with Cronenberg...
Definitely, because they are not stories that end when we get to the end. There's always some unreachable happiness, that leaves discomfort... I like that.
via
RPLife