It was firstly posted
here
at the bottom of the post!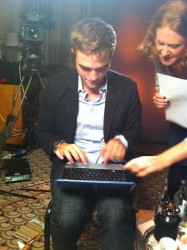 In Breaking Dawn Part 2, new vampire powers have been introduced, which one do you like the most?
"I like the one which one of the Volturi [Alex] has, which just kills everybody. The fog thing that just kills everyone, that would be kind of fun."

Who was fined the most money for swearing?
"I think I was but Peter was the only one who actually paid, I was like 'idiot', she's just a little kid, she's just trying to scam us."

Will you read your kids Twilight?
"Depends on if they want to, I don't believe in reading to kids. You put the book in front of them, if you wanna read, you've got to learn!"

Tell us one characteristic you wish Edward had, and one you'd love to have?
"I would love it if he had a six pack in the movie, and I'd like to carry that out of the movie as well."

If you keep on acting would you like to get a Knighthood some day? Sir Rob?
"I want to be a Lord, I want to be Your Eminence. How do you get that? Your Serene Highness."

Do you pick out what to wear or do you have a stylist?
"I do have a stylist but I pick what I wear. He brings me boxes of stuff, I dress myself."

What's your favourite scene with Mackenzie?
"There's a scene when she runs up, oh that might not be MacKenzie, oh wait, I think that's MacKenzie, she runs up and we're planning a battle and she jumps up into my arms but they're not recording sound and so I'm saying all this stuff, saying all this incredibly inappropriate stuff and she always gets really angry at me. It's really funny because it looks really sweet but..."

If you could swap lives with someone for one day... who would you be?
"A writer for GLAMOUR magazine? Or someone who works at Nandos."